How would altering past events throughout the series' timeline effect those that occurred after it?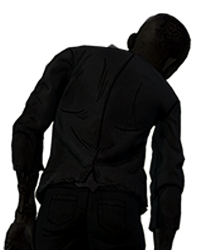 bloody-sauce
Banned
Hypothetically speaking, let's say Aasim was a super genius all along, and miraculously found the right materials to build everyone time-traveling devices, 5 years after the events of Season 4.
He and the others then decide that because they can theoretically undo past events, such as the deaths of Ms. Martin, Marlon, Brody, Sophie, Violet/Louis/Tenn, and pretty much any other kid from the school that died, they should definitely do so.
If they went back in time and prevented the deaths of anyone/everyone who died, which reality would they "return" to?
Reality A:
A new future that's different from the present they traveled from, where the deaths of their friends never occurred when they did, therefore altering the continuity from which they came, which lead to the creation of this new one

Or...
Reality B:
The present they left before traveling back in time where everything is still the same, due to the altered past creating a separate continuity in which their friends are alive

Is there another way altering the past would change the present/future I haven't mentioned?
Would it be worth it, traveling back and undoing the deaths of everyone at the cost of all the memories and possibly friendships that have been formed?
Sign in
to comment in this discussion.